From Sunday, 17 June 2018 - 8:00
To Friday, 22 June 2018 - 5:00

In 2018 we are going to celebrate the 50th anniversary of the SWIM conference in Gdańsk - a city ont the polish Baltic coast.
SWIM conferences originated in 1968, as a result of collaboration between researchers from Germany, Holland and Denmark, working on problems of freshwater-saltwater interaction in coastal aquifers.
Since that time SWIM meetings have been organized - mostly on a biennial basis - in different countries, with an increasing number of participants.
CALL FOR PAPERS
Participants are encouraged to submit either short papers (up to 4 pages) or one page abstracts. The deadline for submission is 1 Feb. 2018. Submissions will be peer-reviewed and the decision on acceptance or rejection will be communicated to the authors before 28 Feb. 2018.
Papers and abstracts will be included in the conference proceedings, distributed to the participants in printed form and as a pdf file. Only contributions of which at least one author registered for the conference will be included in the proceedings.
Additionally, full-length research papers related to the work reported on the conference can be submitted to Geological Quarterly, which is a peer-reviewed journal indexed in the Journal Citation Reports. Depending on the number of contributions, they will be published as a special post-conference issue or in regular, forthcoming issues of the journal.
ORGANISERS
Polish Geological Institute - National Research Institute, Gdańsk University od Technology, Nicolaus Copernicus University in Toruń, Institute of Hydro-Engineering Polish Academy of Science, Institute of Oceanology Polish Academy of Science.

STRATEGIC SPONSOR
KGHM Polska Miedź

ADVISORY COMMITTEE
Mark BAKKER (Netherlands), Wesley DANSKIN (USA), Klaus HINSBY (Denmark), Georg HOUBEN (Germany), Gualbert OUDE ESSINK (Netherlands), Vincent POST (Germany), Christian SIEBERT (Germany), Clifford VOSS (USA), Kristine WALRAEVENS (Belgium), Adrian WERNER (Australia), Helga WIEDERHOLD (Germany).
SCIENTIFIC COMMITTEE
Adam SZYMKIEWICZ (Poland – coordinator), Behzad ATAIE-ASHTIANI (Iran), Giovanni BARROCU (Italy), Michael BÖTTCHER (Germany), Kazimierz BURZYŃSKI (Poland), Jesus CARRERA (Spain), Jean-Christophe COMTE (UK), Emilio CUSTODIO (Spain), Maria-Dolores FIDELIBUS (Italy), Thomas GRAF (Germany), Rainer HELMIG (Germany), Bill HU (China), Joseph HUGHES (USA), Beata JAWORSKA-SZULC (Poland), Jimmy JIAO (China, Hong Kong), Bohdan KOZERSKI (Poland), Christian LANGEVIN (USA), Luc LEBBE (Belgium), Perry DE LOUW (Netherlands), Chunhui LU (China), Teresa DE MELO (Portugal), Holly MICHAEL (USA), Leanne MORGAN (New Zealand), Mike MÜLLER-PETKE (Germany), Namsik PARK (S. Korea), Maurizio POLEMIO (Italy), Małgorzata PRUSZKOWSKA-CACERES (Poland), David PULIDO VELAZQUEZ (Spain), Clare ROBINSON (Canada), Andrzej SADURSKI (Poland), Frans SCHAARS (Netherlands), Jiri SIMUNEK (USA), Peter SINCLAIR (Fiji), Shaul SOREK (Israel), Torben SONNENBORG (Denmark), Pieter STUYFZAND (Netherlands), Waldemar ŚWIDZIŃSKI (Poland), Alexander VANDENBOHEDE (Belgium), Yoseph YECHIELI (Israel).
LOCAL ORGANIZING COMMITTEE
Adam SZYMKIEWICZ – chairman, Andrzej SADURSKI – vice-chairman, Beata JAWORSKA-SZULC – secretary, Małgorzata PRUSZKOWSKA-CACERES, Małgorzata WOŹNICKA, Anna BAGIŃSKA, Rafał OSSOWSKI, Arkadiusz KRAWIEC, Mirosław LIDZBARSKI, Zbigniew KORDALSKI, Beata SZYMCZYCHA, Anna GUMUŁA-KAWĘCKA, Dawid POTRYKUS, Maria PRZEWŁÓCKA, Witold TISLER.
IMPORTANT DATES
Opening Registration and Call for Papers - 15 November 2017
Deadline for Abstract/Paper Submission - 01 February 2018
Notification of Abstract/Paper Acceptance - 28 February 2018
Deadline for early bird registration - 31 March 2018
Deadline for regular registration - 31 May 2018
SWIM 2018 - 17 – 22 June 2018
REGISTRATION INFORMATION
The registration fee provides full participation in the conference, including conference materials, lunches, coffee breaks and evening social events (Sunday icebreaker, Tuesday soccer match and Thursday dinner).The price of the field trip includes transport, copy of the field trip handout, tickets and lunch.
The guest registration fee includes the lunches and the evening receptions.
End of online registration will be May 31st, 2018. After the stipulated date only registration on-site will be possible.
The cancellation fee amounts to 200 PLN. A cancellation after May 31st, 2018 is not possible and will not result in any refund. Cancellations must be made in written form.
For changes after issuing an invoice, a service fee of 40 PLN will be raised. The valid VAT is underlying. Changes beyond our exertion of influence are hereby explicitly reserved.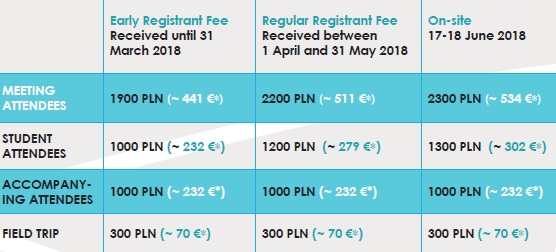 *please notice that applicable prices are specified in PLN; equivalents in EUR are given only for information purposes, 4.3 PLN
CONTACT
This email address is being protected from spambots. You need JavaScript enabled to view it.
MORE INFORMATION
VENUE
Gdańsk Stare Miasto hotel. This 4-star hotel is located just a few steps away from the main highlights of Gdańsk: the magnificent Old Town with the Town Hall, St. Mary's cathedral and medieval Crane at Motława river, European Solidarity Center, witnessing the transformation from communism to democracy in Eastern Europe, and the recently
opened World War II museum.
ACCOMODATION
The conference fee does not include accommodation. Participants are kindly requested to book their rooms on individual bases.
The Mercure Gdańsk Stare Miasto hotel (4-star), which is the venue of the conference, guarantees that the room rate for SWIM participants will not exceed 350 PLN (~82 EUR) for a single room and 390 PLN (~92 EUR) for a double room, if the reservation is made by 15 April 2018. When booking early you can benefit from even lower prices.

Mercure Gdańsk Stare Miasto
ul. Jana Heweliusza 22, 80-890 Gdańsk, Poland
Tel. (+48) 58/3210000; Fax (+48) 58/3210011
e-mail: This email address is being protected from spambots. You need JavaScript enabled to view it.
www.mercure.com
The Ibis Gdańsk Stare Miasto hotel (2-star), neighboring the Mercure hotel, is a cheaper alternative. Early booking should give you the advantage of significantly lower prices than Mercure. Note also that June is high tourist season and the availability of rooms may be limited when booking late. More details about the hotel reservation can be found on the conference webpage.

Ibis Gdańsk Stare Miasto
ul. Jana Heweliusza 24, 80-861 Gdańsk, Poland
Tel. (+48) 58/3006700; Fax (+48) 58/3006767
e-mail: This email address is being protected from spambots. You need JavaScript enabled to view it.
www.ibis.com
TENTATIVE AGENDA / PRELIMINARY PROGRAM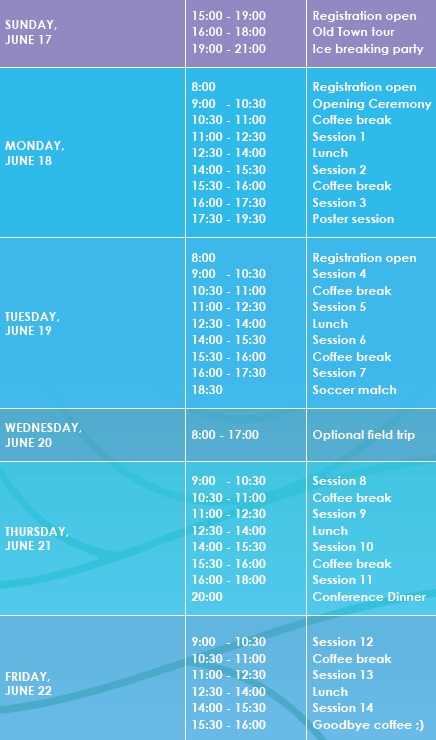 FIELD TRIP
Participants can choose one of two options of the field trip. The choice has to be made during registration. In case of a small number of interested participants, the organizers
reserve the right to cancel one or both trips.
"SWIM to Hel
Castle and Delta