In the context of the closure of the Programme of European Economic Area Financial Mechanism 2009-2014, the Programme Area GR03 "Renewable Energy Sources", operated by CRES, the meeting "GR03 - Complementary Action Event" summarizing the implementation of the GR03 Program and the related Programs co-financed by the EEA Grants 2009-2014 in the Beneficiary countries was held on the December 6th, 2017.
The event was organized by the Center For Renewable Energy Sources and Savings (CRES) from Athens.
In the morning session, the representatives of CRES presented the activities and achievements of the Programme GR03. Thereafter, the representatives of the Operators from the other Beneficiary countries described the Related Programs of EEA Grants 2009-2014 implemented in their states, i.e. "BG04 Energy Efficiency and Renewable Energy" in Bulgaria, "LV02 National Climate Policy" in Latvia, "PT03 Renewable Energy" in Portugal, "RO05 Energy Efficiency" and "RO07 Adaptation to Climate Change" in Romania.
In the afternoon session, the examples of the projects implemented in the Related Programs of the EEA Grants 2009-2014 took place.
The representatives of PGI-NRI presented the project "Geothermal4PL – Support for the sustainable development and use of shallow geothermal energy in the areas covered by the Mieszkanie Plus programme in Poland", financed by the EEA Financial Mechanism 2009-2014 within the framework of the Bilateral Cooperation Fund (BCF), Programme PL04 "Energy saving and promotion of renewable sources of energy".
Maciej Kłonowski delivered a presentation entitled "Sustainable use and development of shallow geothermal energy in Poland – results of Geothermal 4PL project", in which he discussed the situation of the ground source heat pumps market in Poland as well as the objectives and results of the project.
Grzegorz Ryżyński showed the presentation entitled "Evaluation of the shallow geothermal energy potential for the selected areas of national housing programme Mieszkanie Plus – results of Geothermal4PL project", in which he showed the methodology of the borehole data reclassification for the geothermal parameters and the calculation of the shallow geothermal energy.
The conference was concluded by the discussion, exchange of experience and know-how.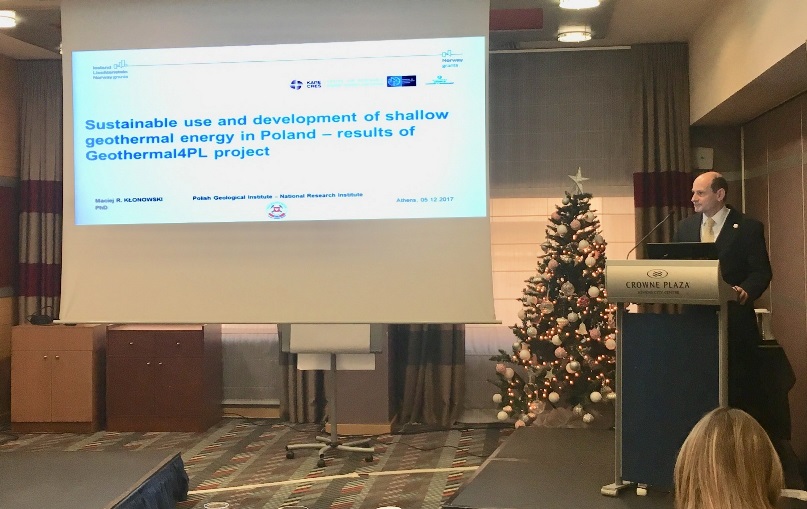 Maciej Kłonowski presents the objectives and results of the Geotherma4PL project

Grzegorz Ryżyński presents the methodology of the geological data reclassification and calculation of low temperature geothermal energy
Text: Maciej Kłonowski
Photo: Maciej Kłonowski i Grzegorz Ryżyński