Below, we present the scope of services offered by the Polish Geological Institute to companies operating in the building industry.
The Polish Geological Institute employs highly qualified specialists with expert knowledge from many years of experience, who work on modern, state-of-art equipment to ensure that the test results are high-quality and reliable.
We provide testing, appraisals and professional advice with regard to natural and building materials as well as land for future developments.

AGGREGATES AND BUILDING MATERIALS
Analysis of the chemical and mineral composition of building materials
Testing of building materials for heavy metal content as well as radioactivity
Irena Iwasińska-Budzyk, MSc
tel. +48 22 45 92 253
This email address is being protected from spambots. You need JavaScript enabled to view it.
Analysis of components of building materials (binders, aggregates, mineral supplements) to assess their compliance with production requirements
Qualitative and quantitative analysis of the chemical composition of cements, mortars, aggregates, steel, metal alloys as well as glasses and tiles, both contemporary and historic
Determining the presence of asbestos in building materials
Magdalena Pańczyk, Dr
tel. +48 22 45 92 232
This email address is being protected from spambots. You need JavaScript enabled to view it.
Assessing the environmental and climate impact on natural and building materials
Exploration and prospecting of mineral resources for the production of building and road construction materials
Economic evaluation of mineral deposits
Preparation of licence applications and consulting in relation to the procedures associated with extraction of natural resources
Waste evaluation, particularly mining wastes, in the context of their potential use in building and road construction
Tadeusz Smakowski, MSc
tel. +48 22 45 92 291
This email address is being protected from spambots. You need JavaScript enabled to view it.
Comprehensive advice in choosing natural materials for housing and community developments as well as for reconstruction of historical buildings
Elżbieta Tołkanowicz, MSc
tel. +48 22 45 92 246
This email address is being protected from spambots. You need JavaScript enabled to view it.
Providing information about all rock resources in Poland (including building stone and aggregates)
Agnieszka Malon, MSc
tel. +48 22 45 92 505
This email address is being protected from spambots. You need JavaScript enabled to view it.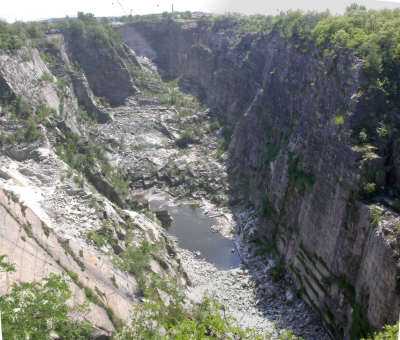 Granite quarry in Strzelin

LAND FOR DEVELOPMENT

Geotechnical and hydrogeological investigations:
Preparation of geological work programmes and ground investigation reports for foundation design and road design
Site assessments to identify potential geological hazards such as landslides, underground voids, settlement, subsidence, flooding and mining-related damages
Preparation of GIS-based maps and engineering geological atlases
Zbigniew Frankowski, Dr
tel. + 48 22 45 03 620
This email address is being protected from spambots. You need JavaScript enabled to view it.

Geotechnical soil laboratory testing:
Particle size distribution (mechanical analysis by sedimentation and sieving, as well as analysis using Fritsch Laser Particle Sizer ANALYSETTE 22, Germany)
Strength parameters (Wykeham Farrance triaxial cell)
Undrained shear strength (laboratory vane test)
Effective porosity of cohesive soils and rocks (Micromeritics AutoPore 9500 mercury porosimeter, USA)
Hydraulic conductivity of low-permeability soils (Trautwein Soil Testing Equipment, USA)
Pinhole test
Parameters used in road engineering such as density index (ID) and degree of compaction (DPr), sand equivalent, frost susceptibility (frost groups), California bearing ratio (CBR), optimum moisture content (Proctor test)
Determination of organic matter content
Field tests:
Heavy dynamic (DPH) and light dynamic (DPL) probing
Field vane testing
Electro-resistivity testing (four probe method)
Dynamic plate bearing test HMP LFG-SD
Hand augering
GPS surveys
Soil and groundwater sampling
Groundwater monitoring
Zbigniew Frankowski, Dr
tel. +48 22 45 03 620
This email address is being protected from spambots. You need JavaScript enabled to view it.
Analysis of soil structure in the context of soil strength
Magdalena Pańczyk, Dr
tel. +48 22 45 92 232
This email address is being protected from spambots. You need JavaScript enabled to view it.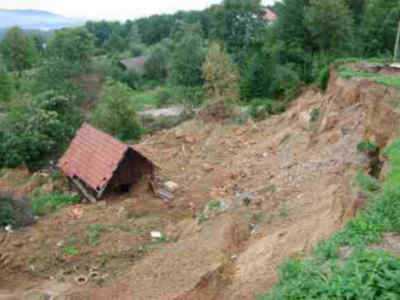 Landslide in Falkowa (Małopolska Province)
ENVIRONMENTAL PROTECTION
Chemical analysis of topsoil, water and rock samples as well as minerals, sediments, wastewater, dust, plants, food and similar materials
Irena Iwasińska-Budzyk, MSc
tel. +48 22 45 92 253
This email address is being protected from spambots. You need JavaScript enabled to view it.
Geo-environmental investigations at sites contaminated with heavy metals, radioactive elements (uranium, radium, caesium) and organic substances (WWA, PCBs, BTEX, mineral oils)
Determining the radon potential of building sites
Environmental impact assessment of projects in accordance with the Environmental Protection Law, Geological and Mining Law, ordinances of the Minister of the Environment on soil quality as well as the Soil Quality Standards in relation to the scope, time, manner and conditions of landfill monitoring
Monika Konieczyńska, Dr
tel. +48 22 45 92 224 or +48 22 45 92 298
This email address is being protected from spambots. You need JavaScript enabled to view it.

Under the acts of the Geological and Mining Law as well as the Water Law, we perform the tasks of the State Geological Survey and the State Hydrogeological Survey.
Specialists employed by the Institute hold geology licences awarded by the Minister of the Environment which entitle them to carry out geological work such as ground investigations in relation to land-use planning, building foundation design (category VI), exploration and prospecting of groundwater resources and hydrogeological conditions (category V) as well as exploration and prospecting of mineral resources (categories II and III).
We carry out scientific research programmes, which are supported by the European Commission, and manage the Centre of Excellence – Research on Abiotic Environment (REA).
The Institute has a long tradition as a research centre, employs highly qualified specialists who work on state-of-the-art equipment, thus delivering high-quality scientific services which ensure reliable results.
We also offer professional studies, consultancy and expertise on mineral resources, building materials and land for new developments.