Did you know that…
The Bełchatów lignite mine is the only object in Poland that can be seen from space. The Bełchatów Field Overcast Mine is up to 8.5 km long and 3.25 km wide. Its maximum depth is 310 m.
The man-made Kamieńsk Hill (elevation: 395 m) is the external dumping ground of Bełchatów Lignite Mine. It rises some 205 m above the adjacent land as the highest hill in Central Poland. The hill houses a sports recreation centre with a slope for skiers, a playground for children and a wind-farm.
In the future, the existing strip mine of Bełchatów will be replaced by a 186 m-deep water reservoir. The planned date of mine filling with water is 2069.
From 1.4 to 9.0 m of peat (4.0 m on average) must be accumulated in order to form a 1 m-thick bed of lignite.
Polish mines have extracted in total over 2.7 billion tonnes of lignite since the beginning of operation.
The largest bucket wheel excavators used at Bełchatów Lignite Mine weigh over 7,000 tonnes, are 200 m long and 77 m high. They travel with a top speed of 9–W10 m/s.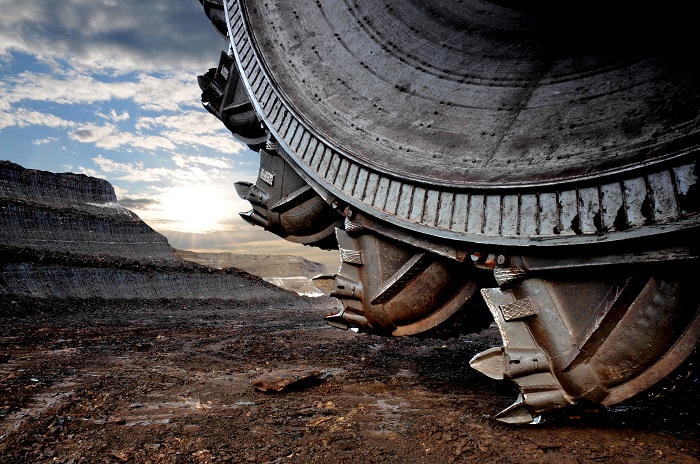 Source: Archiwum KWB Bełchatów
Total length of all belt conveyors at Bełchatów mine is equal to the distance from Bełchatów to Warsaw (148.5 KM).
Since system transformation in 1989, the lignite mining industry has performed without any grants from the State Treasury.
Total employment in the lignite mining industry (including mines, power plants, design and maintenance companies, research centres and service companies) is currently 100,000.
In 2012, five Polish lignite mines paid to the production-involved communes almost PLN 290 million in taxes, royalties, etc.
Thanks to the revenues from lignite production at Bełchatów Mine, Kleszczów is the most affluent commune in Poland. These high revenues enabled a number of capital projects and benefits to the residents, including free water supply, kindergartens, meals for students, private healthcare, subsidies to dental care and children's vacations.