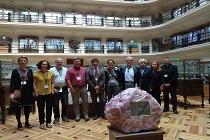 An extraordinary meeting of the International Cooperation and Development Task Force of the Force EuroGeoSurveys (ICDTF EGS) took place in Madrid on 1-2 October 2019. It was organized by ICDTF leader Diana Ponce de León Gil from the Geological Survey of Spain (Instituto Geológico y Minero de España, IGME Spain) in order to give a new boost to preparation of work on a proposal of the PanLatEUGeo Project for approval of the European Commission.


The main goal of that project is to open cooperation between geological surveys belonging to the EGS and those of the Ibero-American Association of Geological and Mining Services (Asociación de Servicios de Geología y Minería Iberoamericanos, ASGMI) as a part of implementation of a cooperation agreement concluded by these associations on 21 October 2015. It is worth to noting here that ASGMI brings together geological surveys of 22 Latin American countries with Spanish or Portuguese as the official language that are culturally related to Spain and Portugal, i.e. countries of the Iberian Peninsula, as well as geological services of Spain and Portugal also belonging to the EGS. For these reasons, services of Guyana (former British colony), French Guiana or Suriname (former Dutch colony) fall outside the ASGMI.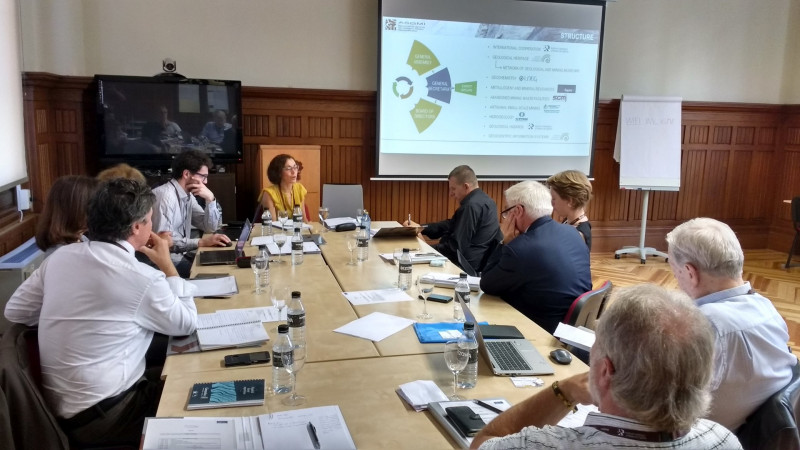 Working session of the International Cooperation and Development Task Force of the EuroGeoSurveys (ICDTF EGS)


The direct reason for calling the extraordinary meeting was a certain stalemate in the process of approving the PanLatEUGeo project scope in negotiations with the EC, which have been conducted for over a year.


Diana Ponce de León Gil (IGME Spain) gave an extended briefing for meeting attendees on the last round of her talks with DG GROW and DG DEVCO in Brussels. Although surveys belonging to ASGMI and 25 national European surveys confirm interest in participating in this project, it seems that the path to its acceptance has begun to lengthen. This appears partly because of approaching changes at the DG level following elections as well as an unexpected rise of some differences in expectation and priorities of these directorates. In general, DG GROW has presently proven to be more interested in supporting cartographic works, with special emphasis on geochemistry and geohazards, while DG DEVCO favors issues related to climate change that seem to be treated so far as of a minor importance by Ibero-Latin American countries. The situation is further complicated by differences in development and strength of geological surveys of these countries, thus resulting in their different expectations in relation to the scope of the PanLatEUGeo project.


In a 'brain storm' focused on finding an optimal project proposal acceptable for the EC, PGI-NRI representatives with the support of delegates from geological surveys of Italy (Giuseppe Delmonaco and Elisa Brustia) and Spain (Enrique Diaz Martinez) proposed a return to best practices from successful launch of the PanAfGeo pilot project. First of all, they proposed submission as soon as possible of a proposal to the EC to conduct a pre-feasibility study aimed at analyzing actual needs and priorities of ASGMI geological surveys and discussing its results at a joint EGS and AGSMI conference with participation of an EU directorates general. Such a well-substantiated justification of the project proposal will strengthen the EGS negotiating position in talks with EC directorates on the optimal scope of EGS-ASGMI cooperation.


The discussions also showed that PGI-NRI specialists can play a rather important role in implementing the proposed project as most probably its geochemical part will have to be very important in the final project scope. Due to the nature of the project, the scale of involvement and the role of PGI-NRI will depend in a significant degree on the activity of our specialists in EGS working groups that are to be established.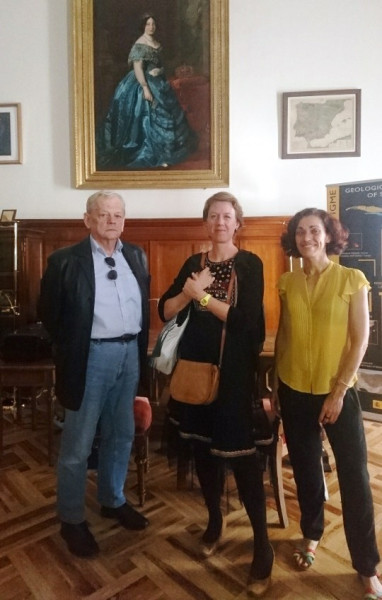 Talks in the office of the Director of IGME Spain. From the right: Diana Ponce de León Gil of IGME Spain, ICDTF Chair, Anne-Lise Gautier, Area Manager for Latin America in BRGM and Wojciech Brochwicz – Lewiński of PGI-NRI


The ICDTF meeting was attended by representatives of geological surveys of the Netherlands (TNO), Czech Republic (CGS), Sweden (SGU), Italy (ISPRA), France (BRGM), Poland (PGI-NRI) and Spain (IGME Spain). ICDTF chairs will submit meeting conclusions to the EGS Executive Committee for approval.


Within the framework of the meeting, the hosts organized a visit to the Geominero Museum of the Spanish geological survey, guided by its director, Dr. Ana Rodrigo. The museum is located in an impressive building designed by Francisco Javier de Luque that was erected in 1921-1925. A large staircase with white marble balustrades leads to the main hall and is topped with a stained glass roof. The main hall exhibits mineralogical and raw material collections as well as flora and fauna fossils.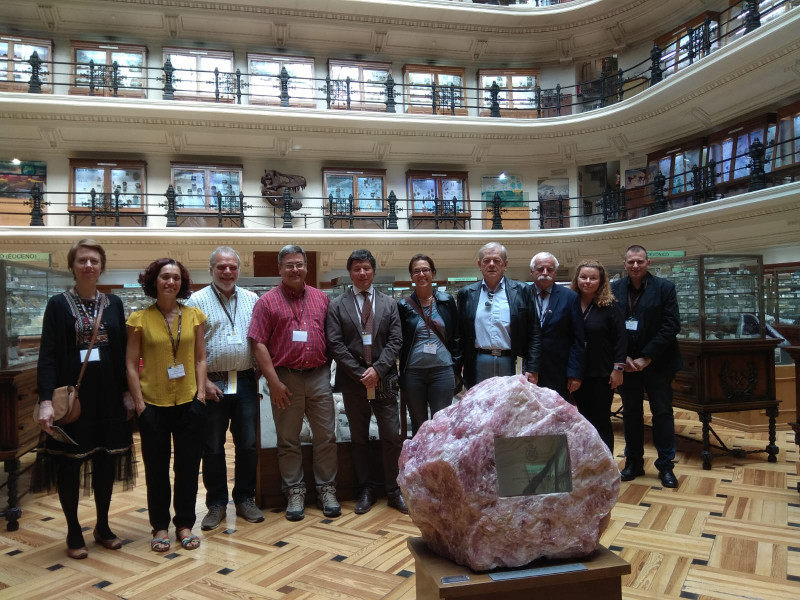 Group photo of participants of the meeting in the Geominero Museum of IGME Spain. From the left: Anne-Lise Gautier (BRGM), Diana Ponce de León Gil (IGME Spain), Hans Doornenbal (TNO), Enrique Diaz Martinez (IGME Spain), Giuseppe Delmonaco and Elisa Brustia (ISPRA), Wojciech Brochwicz-Lewiński and Stanisław Wołkowicz (PGI-NRI), Lisbeth Hildebrand (SGU) and Tomas Hroch (CGS)


Unique well-exposed attractions are a moon rock from the Taurus-Littrow Valley, collected during the Apollo 17 mission in 1972, and a flag of Spain that made this trip to the moon. President Richard Nixon presented it to the Geominero Museum in 1973.


Vertebrate and other thematic collections are displayed on the first balcony. The second balcony is reserved for a collection of minerals and rocks from autonomous regions of Spain. Specimens numbering 60,000 are displayed in representative classic style hand-carved wood display cases with glass extensions.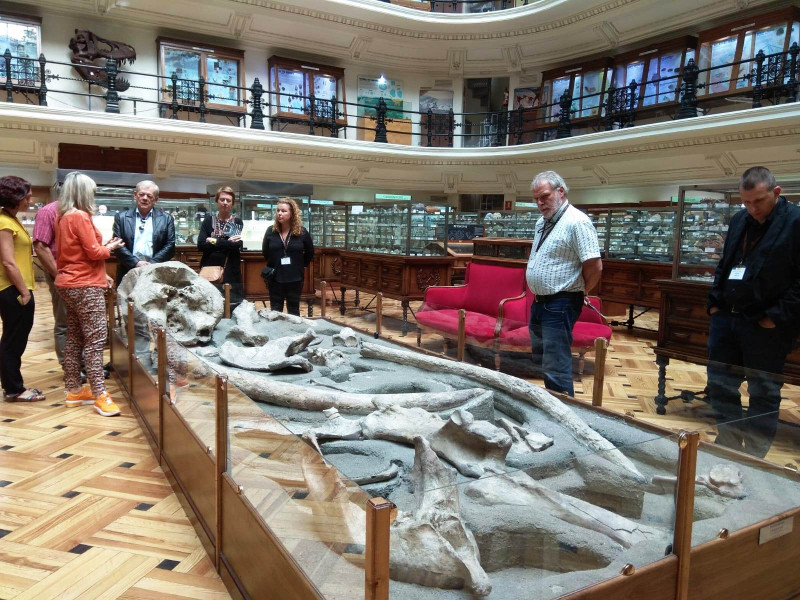 Exploring the Geominero Museum with its director Ana Rodrigo as a guide


The museum's classic appearance stems from the fact that for 100 years it was managed by people who cared more about maintaining its unique atmosphere than about introducing radical changes. Thankfully, they avoided damage during the civil war. The effects of turbulent history of Spain in the 20th century were thus rather limited to frequent changes of the state emblems.


Text: Stanisław Wołkowicz and Wojciech Brochwicz-Lewiński
Photos: courtesy of IGME Spain