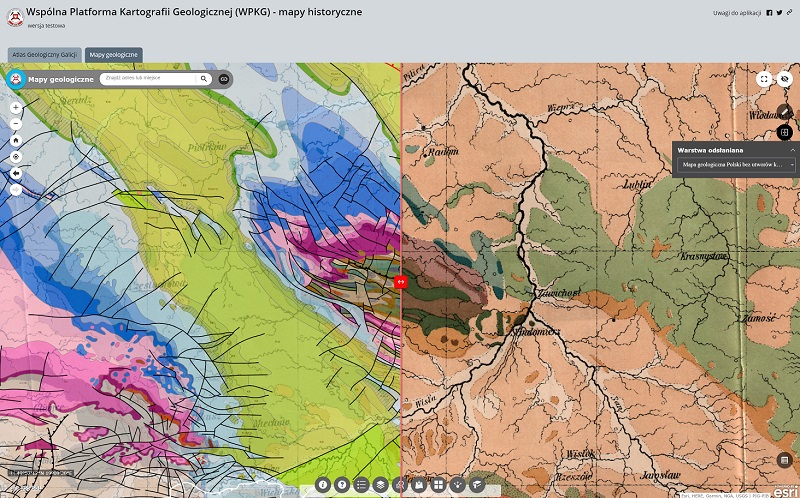 The Minister of Climate and Environment supervises nine research institutes. The fulfillment of tasks set for the Ministry requires a good flow of information and full cooperation of all of them. The research potential - in terms of personnel and equipment - of individual institutes is often unique and represents a great value in the field of development of modern science. The question of how best to use it in meeting the challenges posed by the modern economy was discussed during a meeting between the management of the Ministry of Climate and Environment and the directors of the institutes.


On the 29th of April, 2021, at the Polish Geological Institute - NRI headquarters in Warsaw, the Minister of Climate and Environment, Michał Kurtyka, and the Ministers: Ireneusz Zyska - Government Plenipotentiary for Renewable Energy Sources and Piotr Dziadzio – Poland's Chief Geologist, Government Plenipotentiary for the State Raw Materials Policy met with the directors of the departmental institutes. Among the participants of the meeting there were also Prof. Maciej Chorowski - President of the National Fund for Environmental Protection and Water Management and Prof. Aleksander Nawrat - R&D expert in the Ministry of Climate and Environment.
The meeting discussed the challenges facing the ministry against the backdrop of the energy transition, climate change and the need for a post-Covid recovery.
- Well-functioning analytical support by the institutes is a basic tool providing empirical arguments in discussions on important and socially sensitive topics such as climate change or energy security. I think that even closer cooperation and interdisciplinary projects will contribute to a better use of institutes' potential in a few well-known directions, such as renewable energy sources, environmental protection, energy transformation, etc., as well as new ones that will probably appear during future meetings and as further exchange of information takes place - said Minister Michał Kurtyka.
This visit to the Polish Geological Institute-NRI has initiated a series of regular meetings for the aforementioned group. Establishing a platform of cooperation benefiting all institutes and having a positive impact on the work of the Ministry is the will of all participants of the meeting.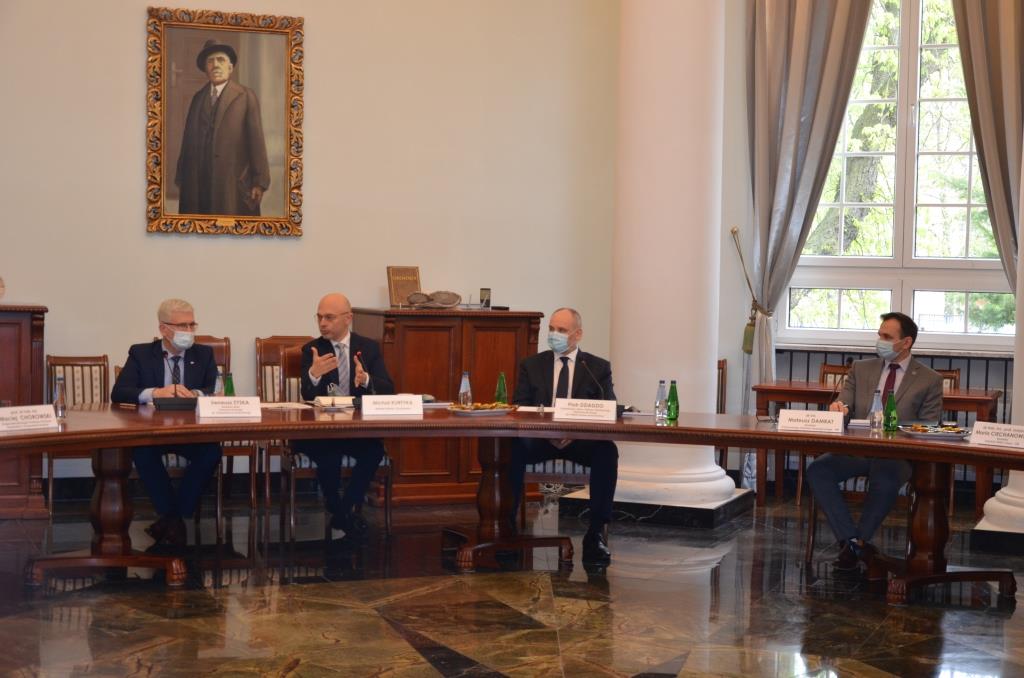 From the left: Minister Ireneusz Zyska, Minister Michał Kurtyka, Minister Piotr Dziadzio, and the host of the meeting and Director of the Polish Geological Institute - NRI Mateusz Damrat, Dr. Eng.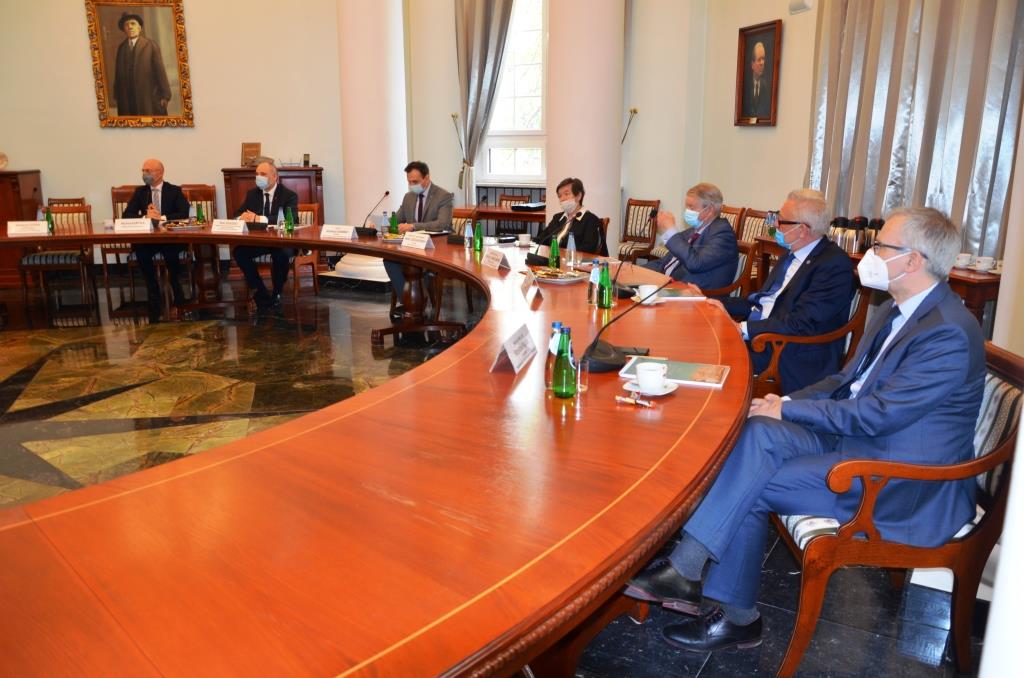 From the left: Minister Michał Kurtyka, Minister Piotr Dziadzio, Dr. Eng. Mateusz Damrat (Director of the Polish Geological Institute - NRI), Prof. Maria Ciechanowska (Director of the Oil and Gas Institute - NRI), Prof. Andrzej Chmielewski (Director General of the Institute of Nuclear Chemistry and Technology), Dr. Eng. Tomasz Gałka (Director of the Institute of Power Engineering), Prof. Krzysztof Kurek (Director of the National Center for Nuclear Research)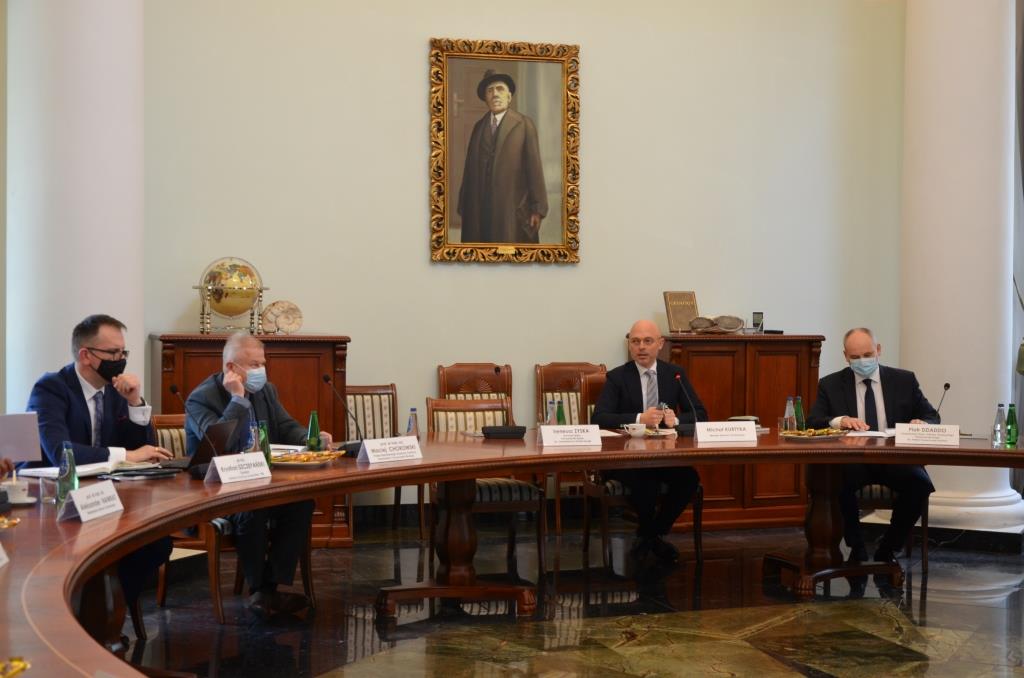 From the left: Dr. Krystian Szczepański (Director of the Institute of Environmental Protection - NRI), Prof. Maciej Chorowski (President of the National Fund for Environmental Protection and Water Management), Minister Michał Kurtyka, Minister Piotr Dziadzio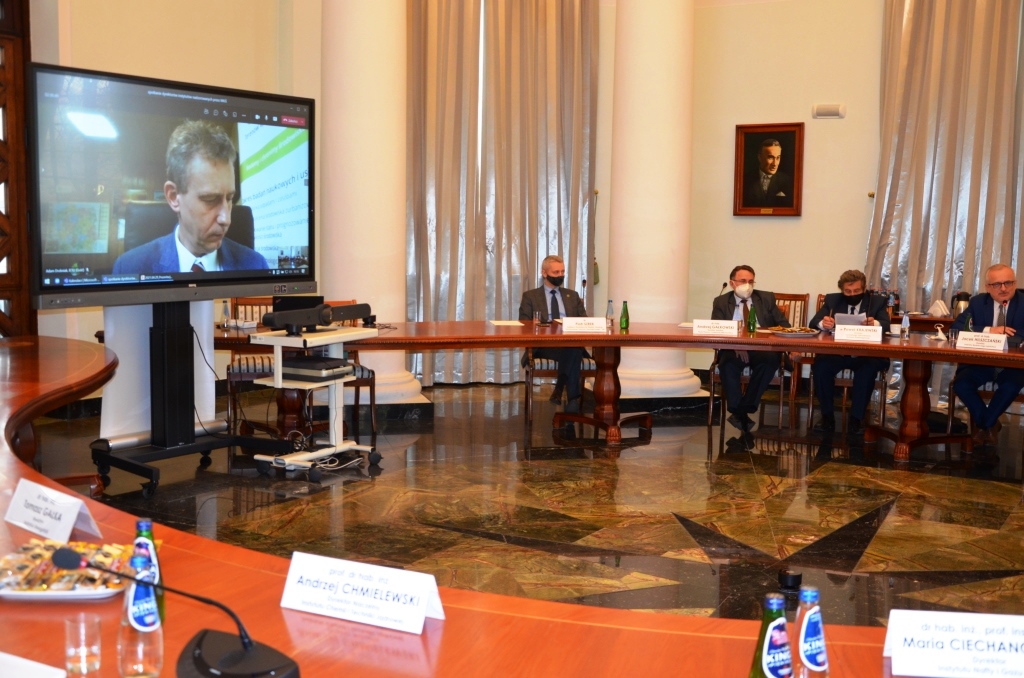 The on-line meeting was also attended by Adam Drobniak, Ph.D. (Director of the Institute for Ecology of Industrial Areas). Behind the table, from the left: Dr. Piotr Szrek (PGI-NRI Deputy Director for Research and Development), Dr. Andrzej Gałkowski (Director of the Institute of Plasma Physics and Laser Microsynthesis), Dr. Paweł Krajewski (Director of the Central Laboratory for Radiation Protection)


Photo: Monika Krzeczyńska
Translated by Tomasz Trzpil (PGI-NRI)