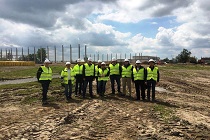 The construction of the Central Warehouse of Geological Samples, financed by the National Fund for Environmental Protection and Water Management (NFOŚiGW), is underway in Leszcze, located in the Kłodawa municipality. On the 27th of May, 2021, representatives of the Fund's management and the management of the Polish Geological Institute-NRI visited the construction site of the new investment.
NFOŚiGW delegates got acquainted with the progress of construction and the progress of drilling intended for a low-temperature geothermal installation.
The representatives of the Fund visiting the investment: Dominik Bąk - Deputy President of the Board, Jarosław Roliński - Director of the Department of Earth Protection, and Beata Kuś - Manager of the Department of Geology and Mining, could see that construction is going according to plan. The laboratory-analytical building, with an area of just over 1000 m2, has completed a shell structure, and steel pillars have been erected along the contours of the storage hall. Mateusz Damrat, the Director of PGI-NRI and Andrzej Głuszyński, Deputy Director for the Polish Geological Surveys, presented a further construction schedule for this investment, which is so important for the entire geological industry.
On the day of the visit, the last of 40 vertical heat exchanger boreholes, each of which is 100 meters deep, was drilled. In order to properly estimate the ability of soil to transfer heat, a thermal response test (TRT) was performed on one of the boreholes by measuring the coefficient of effective thermal conductivity of soil. Grzegorz Ryżyński, Deputy Head of the Department of Engineering Geology at PGI-NRI, presented different aspects of using low-temperature geothermal energy in the facility under construction.
The visit was an excellent opportunity to see the currently operating Archives of Geological Cores and Samples of PGI-NRI. Michał Sokołowski, the Head of the National Geological Archives, explained the methods and conditions of storing cores and types of archival samples collected by NAG.
The Geological Sample Central Warehouse will be operational in June of 2023 and will store up to one million linear meters of geological samples (mainly drill cores).
Gathering, processing and providing access to geological information is one of the tasks of the Polish Geological Survey, which is carried out by the Polish Geological Institute - National Research Institute. AT PGI-NRI this task is handled by the National Geological Archives (NAG), which collect, record, preserve and makes available all geological materials, especially geological documentations and maps, as well as geological samples from boreholes. In more than a century, the Institute has collected nearly 900 running km of cores from nearly six thousand boreholes.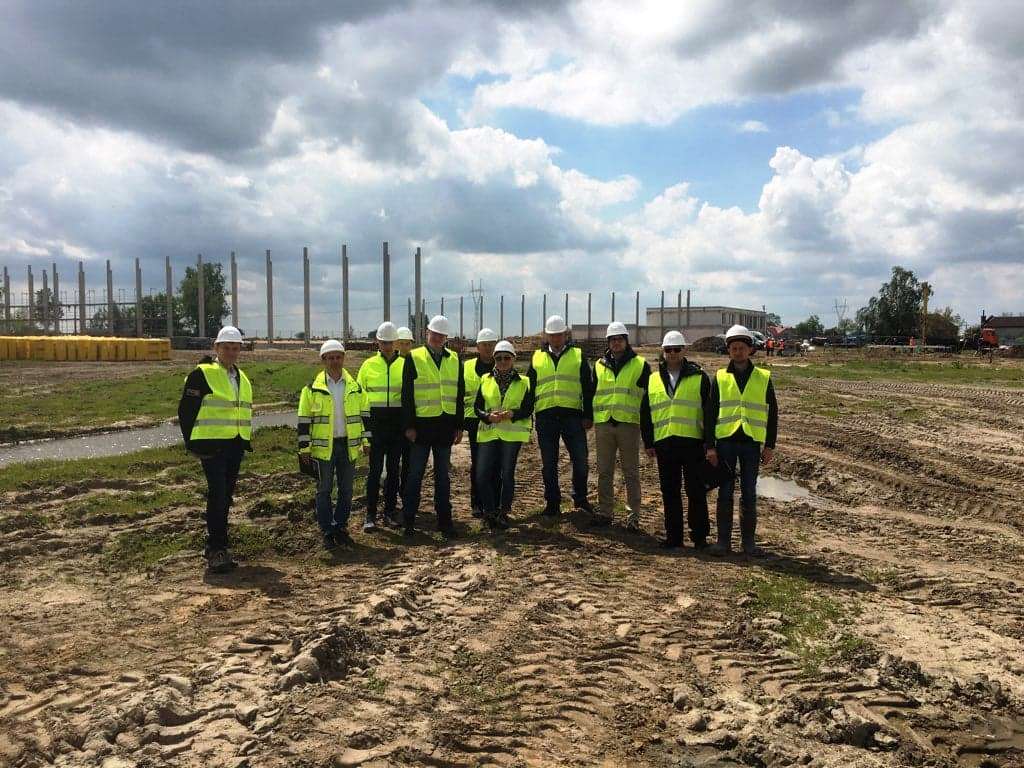 Delegation of the National Fund for Environmental Protection and Water Management, PGI-NRI management and staff, and a representative of ANNA-BUD, the contractor for the construction of the Geological Samples Central Warehouse. In the background, we see the outer pillars of the storage facility and the structural shell of the laboratory-analytical building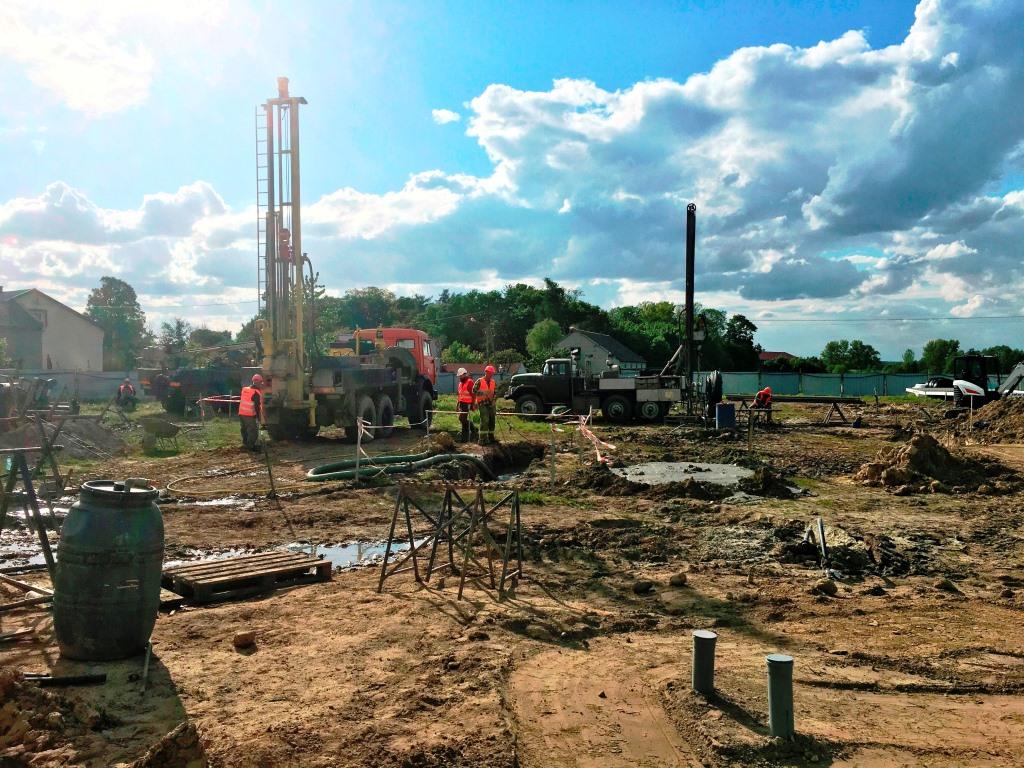 Drilling - 3 SATOR drilling rigs in the course of drilling 40 borehole heat exchangers with a total area of 4000 m. The lower heat source is to provide approx. 160 kW of thermal power for the facility's cooling and heating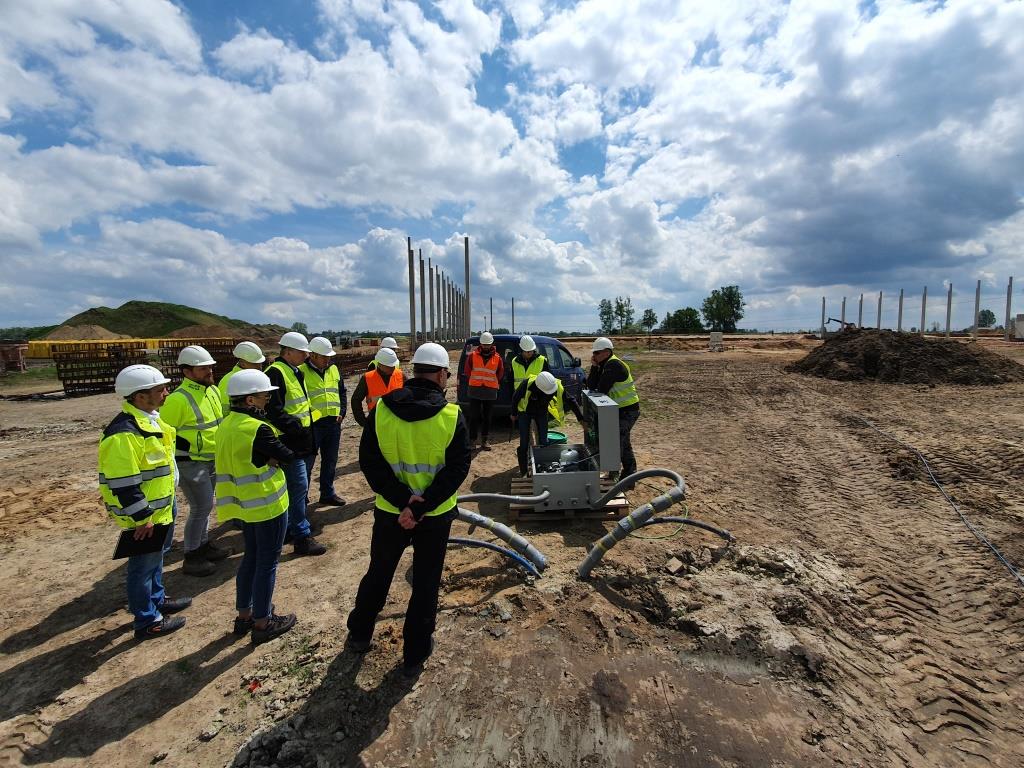 Thermal response test (TRT)


Text: Grzegorz Ryzynski, Michal Sokolowski
Editors. Anita Starzycka, Anna Bagińska
Photos: G. Ryżyński, Andrzej Głuszyński
Translated by Tomasz Trzpil (PGI-NRI)