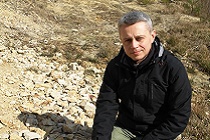 We are pleased to announce that by the resolution no. 31/IX/2021 dated September 17, 2021, the Scientific Council of the Polish Geological Institute – National Research Institute conferred onto Dr. Piotr Szrek the academic degree of doctor habilitatus in the field of Exact and Natural Sciences in the discipline of Earth and Environmental Sciences.


In 1999 Piotr Szrek, Ph.D., graduated from the Geological Technical School in Kielce with a degree in xploration geology. He is a graduate of the Faculty of Geology, University of Warsaw, where he received his bachelor's degree in paleontology, and later earned his master's degree in Earth Sciences. Also at the Faculty of Geology of the University of Warsaw, on the basis of his dissertation "Armored fish from the Devonian of the Holy Cross Mountains", written under the supervision of Prof. Dr. hab. Michał Ginter, in 2010 he received a PhD degree in Earth Sciences.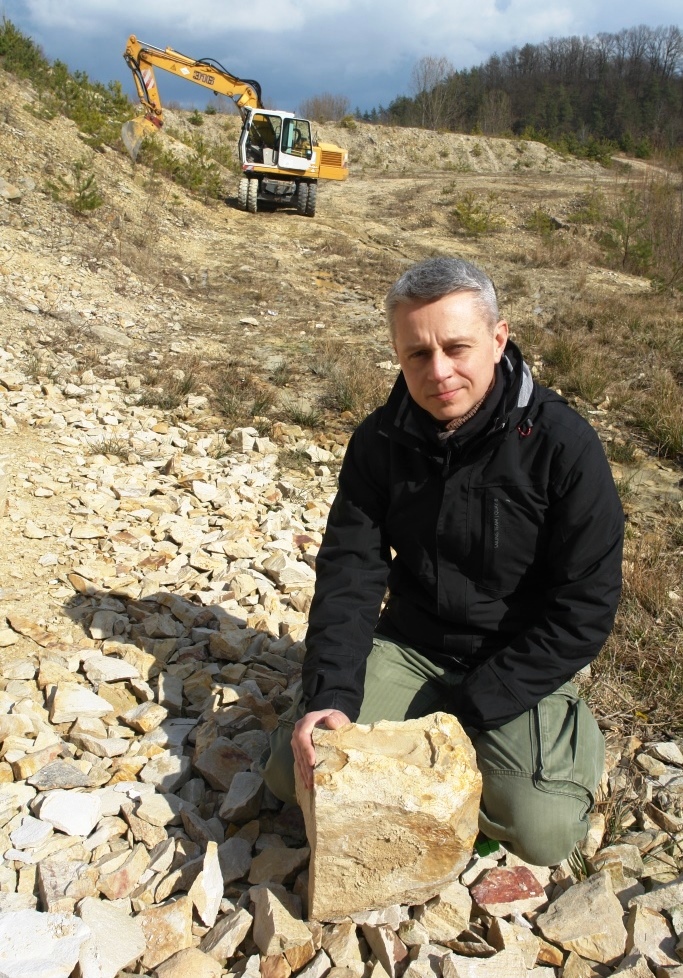 Dr. Piotr Szrek during his field research


He received his habilitation after presenting a series of six thematically related publications, which comprise the achievement entitled: Reflecting the evolution of Devonian environments of the Holy Cross Mountains in the vertebrate fauna with particular emphasis on plakoderms. Piotr Szrek's other areas of interest include trace fossils, fossil soils, paleoecology and evolution at the water-land interface.
In the years 2005-2008 he was employed at the Polish Academy of Sciences (Institute of Palaeobiology and Museum of the Earth). Since 2009 he has been an employee of the Polish Geological Institute - National Research Institute, first as a specialist and senior specialist, and since 2013 as an assistant professor. In the years 2010-2016 he managed the Geological Museum at PGI-NRI. Currently, as an assistant professor, he is on unpaid leave due to taking up the position of PGI-NRI's Deputy Director for Research and Development in October 2019.
Since the beginning of his scientific career his main interest has been vertebrate paleontology related to the Holy-Cross Mountains. He has been actively involved in scientific cooperation both at home and abroad in Europe, Australia and the United States. He was an contractor and manager of scientific grants funded by the Ministry of Science and Higher Education and the National Science Centre. He also implemented grants financed from foreign funds (e.g. National Geographic Society) and internal grants implemented as part of the statutory activities of PGI-NRI.
He was a participant and co-organizer of numerous national and international conferences and symposia on geology with a special emphasis on paleontology. He participated in the implementation of two projects under the International Geoscience Program (IGCP). From 2009 to 2012 he was a member of the steering committee of Scientific Collections International and continues to this day to collaborate in the Global Registry of Scientific Collections International. He has contributed several times to the coordination and management of scientific natural history collections worldwide.
He has been co-promoter for four master's theses and is currently an associate supervisor for a PhD. He regularly reviews papers for scientific journals, mainly from the JCR list.
He is the recipient of many awards and honors related to scientific activities, including a special award from the Prime Minister, a Traveller award from National Geographic Poland, and several awards from the Director of PGI-NRI between 2010 and 2016.
We sincerely congratulate Dr. Szrek and wish him further scientific success!