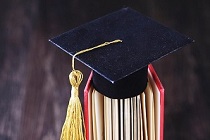 We are pleased to announce that by the resolution no. 1/I/2022, dated the 25th of January, 2022, the Polish Geological Institute-NRI Scientific Council has unanimously conferred on Dr. Maria Waksmundzka, of the Department of Regional Geology, the academic degree of Doctor habilitus in the field of Natural Sciences, in the discipline of Earth and Environmental Sciences.
Maria Waksmundzka, Ph.D., is a graduate of the Warsaw School of Geology. In 1991-1992, during her studies at the Department of Geology of the University of Warsaw, she was an intern assistant in the Department of Dynamic Geology. In 1993 she defended her M.Sc. thesis entitled: "Facies Formation and Sedimentation of Visean and Namurian Formations of Southern Part of the Lublin Coal Basin" and graduated with a specialization in stratigraphic and exploration geology. In 2006 she got her Ph.D. in Earth Sciences from the Polish Geological Institute-NRI on the basis of her Ph.D. thesis entitled: "Facies evolution and sequence analysis in paralic Carboniferous formations in the north-western and central parts of the Lublin region".
She received the postdoctoral degree on the basis of a series of thematically related publications entitled: "Reconstruction of depositional architecture and paleogeography of Carboniferous formations in the Lublin Basin" and also on the basis of scientific activity in more than one scientific institution. The postdoctoral research comprises 8 publications with detailed characteristics of lithofacies, cyclicity, sedimentary environments, depositional sequence boundaries and paleogeography of Carboniferous formations in relation to chronostratigraphy, developed on the basis of geological and geophysical well data.
Maria Waksmundzka, Ph.D. was employed in 1993-1996 as an assistant in the Department of Geology and Economics of Deposits at the Department of Geology of the University of Warsaw. Since 1995 she has been employed at the Polish Geological Institute - NRI in Warsaw. She was employed as a research and technical specialist and senior specialist, and since 2006 she has been working as an assistant professor.
From 2006 to 2012, she served as manager of the laboratory and deputy manager of the unit, while from 2012 to 2016, she was the manager for the Energy Security Program. During this time, about 25 new tasks of the Polish Geological Survey (from pol. Państwowa Służba Geologiczna – PSG) related to energy security of Poland were introduced and implemented, several of which are continued today as permanent tasks of the PSG. In 2015-2017, she was an elected member of the PGI-NRI Scientific Council and vice-chair of the Organizational and Economic Commission in this Council.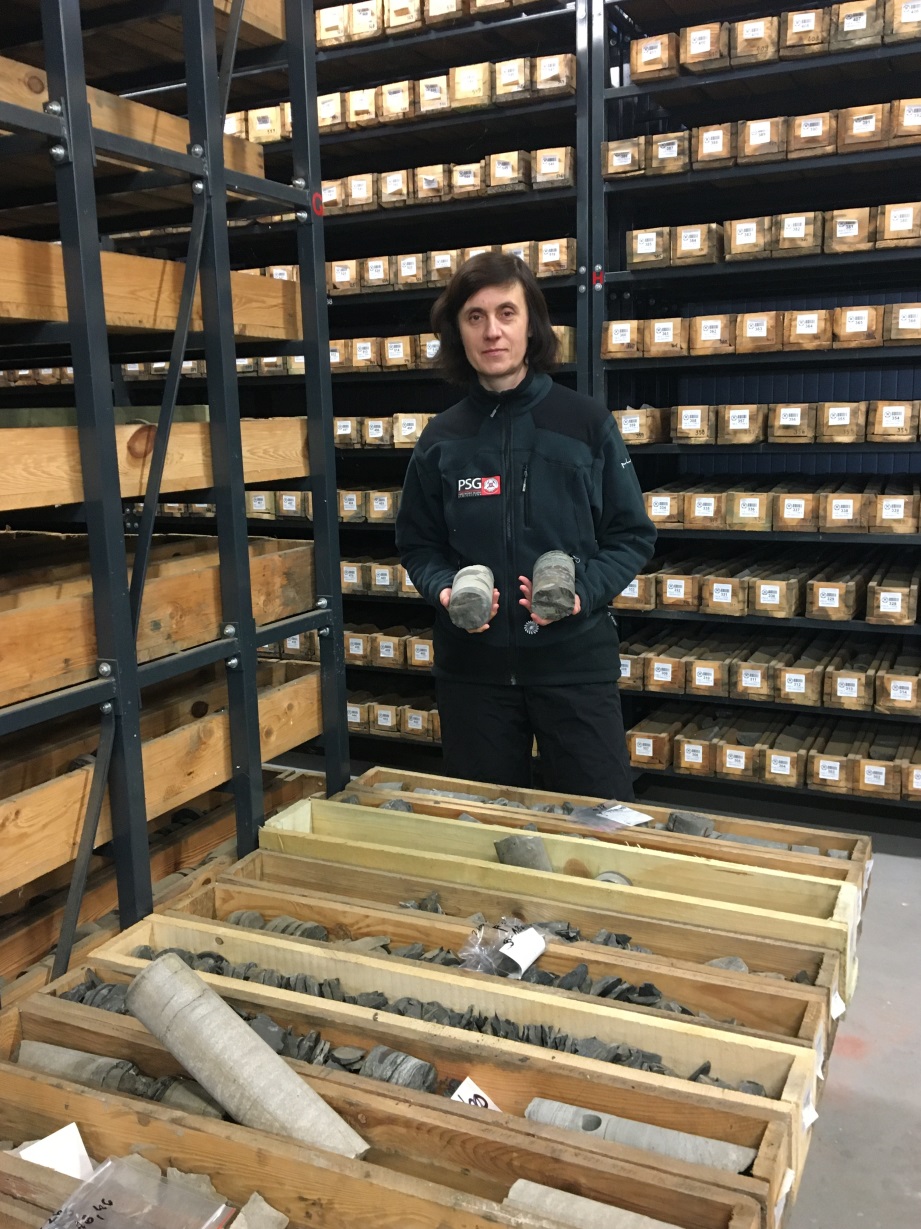 Maria Waksmundzka, Ph.D., during profiling and testing of drill cores at the NAG Geological Samples Field Archive in Hołowno, November 2021. (Photo: Dr. A. Kozłowska)


Apart from the sedimentology and stratigraphy of Carboniferous formations of the Lublin Basin, southwestern Poland and Pomerania, Maria Waksmundzka, Ph.D., also deals with economic geology (hydrocarbons, coal, bauxite), the compilation of data from wells to be published in a series Profiles of Deep Boreholes of the Polish Geological Institute, deep geological cartography, compilation of lithofacial-stratigraphic data for 3D models, verification and supplementation of data from the Boreholes subsystem and the Stratigraphic Dictionaries application in the Central Geological Database, studies on stratotype sections of drill cores, as well as dealing with the potential for CO2 storage.
In her professional career, she managed 19 projects, and was the implementer of 43 projects. These included grants funded by the Committee for Scientific Research, scientific research projects funded by the Ministry of Science and Higher Education, PSG projects funded by the National Fund for Environmental Protection and Water Management, as well as commercial projects commissioned by Polish and foreign oil companies. She also conducted research at other scientific institutions, e.g.: Eberchard Karls Universität Tübingen in Tübingen (Germany) in 1994 and University of Sheffield Department of Earth Sciences in Sheffield (UK) under the TEMPUS Program in 1995.
In 2005-2009 she was a member of a team which participated in a research project entitled: "Petroleum Geological Atlas of Southern Permian Basin Area". The project was coordinated by Geological Survey of the Netherlands TNO and implemented in an international team by European geological surveys, i.e. Belgian GSB, British BGS, Danish and Greenlandic GEUS, German BGR, Polish PGI-NRI, as well as by universities and hydrocarbon exploration companies.
In the years 2006-2009 she was a member of a 25-person team that implemented a research program entitled "International Geological Correlation Program # 469: Late Westphalian terrestrial biotas and paleoenvironments of the Variscan foreland and adjacent intramontane basins" coordinated by scientists from the Department of Biodiversity & Systematic Biology of the National Museum Wales (Great Britain), Charles University in Prague (Czech Republic) and the Institute of Geological Sciences of the Polish Academy of Sciences in Cracow.
Maria Waksmundzka, Ph.D., is the author/co-author of 60 publications including chapters in monographs, 5 of which are on the JCR list, 11 in WoS and Scopus databases, 4 on the Ministry of Science and Higher Education A list and 22 on the B list. She is also the scientific editor of 3 monographs.
Her authorship/co-authorship maps were published in atlas publications i.e. "Petroleum Geological Atlas of Southern Permian Basin Area" (2010), "Atlas paleogeologiczny podpermskiego paleozoiku kratonu wschodnioeuropejskiego w Polsce i na obszarach sąsnich 1:2 000 000". (2010), "Atlas geologiczny Polski" (2017) and "Geological Atlas of Poland" (2020).
In 2006, Maria Waksmundzka, Ph.D., received the medal for Distinguished Service to Polish Geology and the PGI-NRI Director's Special Award for Project Management, and in 2010 and 2013 she received two PGI-NRI Director's Special Collective Awards for Best Monographs. In 2019, she received the degree of a mining engineer of the first degree.
Wniosek habilitacyjny dr hab. Marii Waksmundzkiej ze szczegółowym wykazem osiągnięć, autoreferatem oraz recenzjami znajduje się na naszej stronie internetowej pod linkiem:
www.pgi.gov.pl/o-instytucie-geologicznym/rada-naukowa/habilitacje.html

We sincerely congratulate you and wish you further academic and professional success!
Translated by Tomasz Trzpil (PGI-NRI)