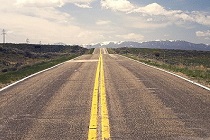 We are pleased to announce that on 22 August 2023, we signed a contract for the project entitled 'Methods for investigations and selection of geotechnical solutions for road investments'.
The project has received funding under a joint venture between the National Centre for Research and Development (NCBR) and the General Directorate for National Roads and Motorways (GDDKiA) to support scientific research or development work in the field of road engineering entitled 'Development of Road Innovations – RID'.
The project is implemented by a consortium consisting of:
Stanislaw Staszic Academy of Mining and Metallurgy in Cracow, Faculty of Civil Engineering and Resource Management – consortium leader,
Polish Geological Institute – National Research Institute,
Road and Bridge Research Institute (IBDiM), • Gdańsk University of Technology, Faculty of Civil and Environmental Engineering.

The overall objective of this project is to develop safe infrastructure for national roads and motorways in Poland. Its achievement will be possible through the creation of up-to-date guidelines for investigations and the selection of geotechnical solutions in the field of soil improvement technologies for road investments. The guidelines will take into account the various stages of task preparation and different soil and water conditions.
The research work will include verification of known and used solutions as well as new technologies, with particular emphasis on atypical foundation conditions for road structures in complex geotechnical conditions (i.e., landslides, mining exploitation areas, areas subject to karst phenomena and areas of highly compressible organic soils).
The following work will be carried out as part of the project:
analysis of design methods and technologies for soil reinforcement,
analysis of requirements related to the necessary scope of subsoil investigation for individual technologies,
examination of the quality and durability of technological solutions used in road construction,
definition of the requirements concerning the parameters of the subsoil, the materials used, the method of carrying out the works, the criteria for assessing the quality of the performed subsoil reinforcements, the method of monitoring and the assumed and acceptable changes in the applied reinforcements during operation,
development of an algorithm for selection of subsoil reinforcement technology in relation to soil and water conditions, anticipated geological and geotechnical hazards and risks, technical solutions and design stage,
development of guidelines on the principles of selection, design, implementation, testing and monitoring of geotechnical solutions for road projects.
The end result will be guidelines that will improve the activities of the General Directorate for National Roads and Motorways in improving the bearing capacity of the subsoil for road investments and minimise the risks associated with the use of geotechnical solutions that are not adapted to the soil and water conditions.