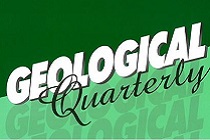 The latest issue of the journal contains 12 articles covering a wide range of issues in Earth sciences and related fields. The employees of the Polish Geological Institute – NRI are the authors or co-authors of five papers in the latest issue.


The journal is a leading journal of the Earth sciences in Poland. It also serves as an international forum for exchange of information and ideas on important geological issues in Poland, Europe and in the world.
Online version (free):
Geological Quarterly Vol 65, No 3 (2021)

The Geological Quarterly is the flagship journal of the Polish Geological Institute-NRI (in English), and has been published since 1957 (64 years). Its purpose is to inform about the results of research conducted at the Institute and to maintain scientific relations with individuals and institutions working on related issues. The quarterly journal is included in the Science Citation Index Expanded database, since 2003, including the Web of Science, Research Alert, Current Contents/Physical, Chemical & Earth Sciences, American Geological Institute/Bibliography and Index of Geology, Elsevier/GeoAbstracts, Geobase and BIOSIS UK/Zoological Records, and its IF (impact-factor) has exceeded 1 for several years now.
We invite you to read the journal!