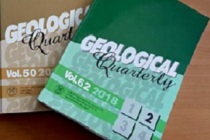 A new issue of the English language journal Volumina Jurassica – Volume XX (2022) has been published. The publication includes an article co-authored by an employee of the Polish Geological Institute-PIB.
Volumina Jurassica is aimed at scientists working on the Jurassic system, including those closely associated with the International Subcommission on Jurassic Stratigraphy (ISJS). The journal is published in English and serves as an international forum for the exchange of information on the Jurassic system worldwide.
Volumina Jurassica has been published jointly with the Faculty of Geology of the University of Warsaw since 2010. View the current issue of Volumina Jurassica: The publishing unit of the Polish Geological Institute – PIB has been publishing scientific journals, books, maps and atlases on geological topics for more than 100 years. All publications are available at the PGI-PIB online shop.